Laban Roomes of Goldgenie has developed a new exciting service  "you look like a million dollars" at www.goldgenie.com an exclusive portrait service allowing your loved ones to be immortalised in precious metal and stones.
An exceptional service
The golden boy, dreamy and ethereal but rich with gold and diamond embellishment.
Imaginative elements are combined with innovative technology and traditional skills to create unique pieces of rare quality and dazzling enchantment.
Reminiscent of the treasures of ancient Egypt and the antiquities of classical Greece. Newborn of the 21st century.
Well placed on the stage of contemporary art. Of the moment, in keeping with icons of our era such as a supermodel in gold and a diamond encrusted skull.
With passion, skill and integrity Goldgenie has created the ultimate luxury of bespoke portraiture available for individual commission.
Working out of their London studio they co-ordinate a network of British craftsmen and women in this unique artistic venture. Employing traditional and cutting edge technologies to create amazingly lifelike and innovative works which reflect the character and personality of each subject. Precious metals and gems can be incorporated to enrich the surface of these unique and amazing works.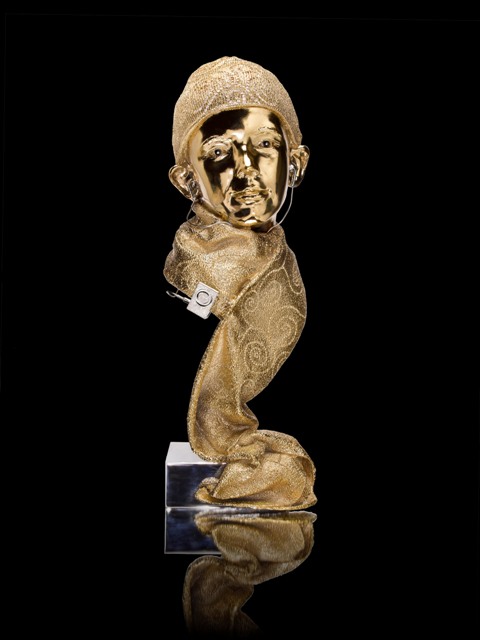 The portraits are sculpted at their London studio and then cast into bronze, glass and precious metals by specialist foundries within the UK. Surfaces are enriched and embellished with precious gems and gold by Goldgenie in Hatton Gardens. Attracting patronage from the wealthy, they have a waiting list for new clients for this truly exclusive service.
Embellished portrait commissions start at around £15,000.