What do I get when I purchase the Goldgenie Certified Professional Package?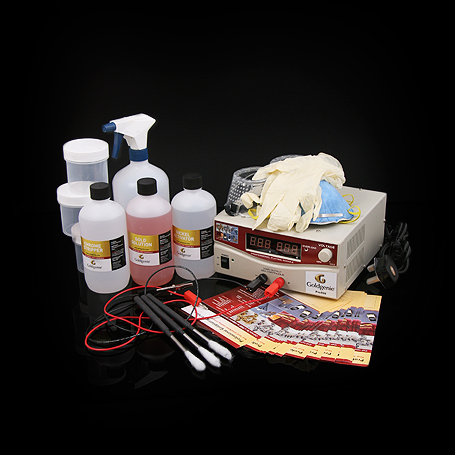 The Goldgenie "Pro Business Opportunity"
Includes the Goldgenie Pro plating machine
3 Probes
2 Leads
Crocodile clips
1 Pair of eye protectors
Enough Gold and plating chemicals to recoup between £2000 to £3000 worth of business
3 plastic containers
1 Pistol grip bottle
Box of gloves
Probe Swab material
User manual
A marketing and sales plan
500 full colour marketing leaflets
Financial projections
A guide to pricing and charging
Solution reorder guide
Online training manual and telephone technical support between 8am and 6pm
Includes the James Caan mastermind fast track business multiplier
Includes massive discounts off our website prices and marketing product launch CD as follows:
CD with high res and low res images of all our products as seen on website without watermarks to be used to market your services
50% discount off gold plated roses, four leaf clovers, golf ball and tee, cigars and mistletoe
30% discount off any future purchase Goldgenie business opportunity
30% discount off golf putter and key-rings
25% discount off iPod touches and mobile phones
25% discount off game consoles
20% discount off all celebrity endorsed products
10% discount off chemical reorders
Support and mentorship to grow your business
Leads passed to you as and when they arise in your area
Lifetime Warranty on machine
Total cost for the Goldgenie Certified Professional Package is £1,295.00 plus VAT and comes complete with enough chemicals to recoup your investment! Plus FREE delivery for all UK purchase.
For more info, visit our site at www.goldgenie.com