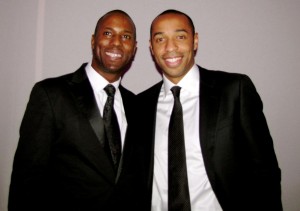 Laban Roomes & Thierry Henry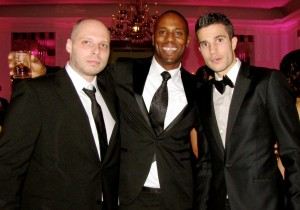 Stan Pol (Goldgenie Russia), Laban Roomes & Robin Van Persie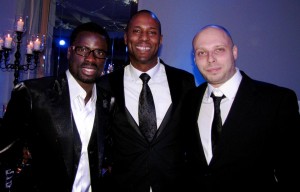 Emmanuel Eboue, Laban Roomes & Stan Pol (Goldgenie Russia)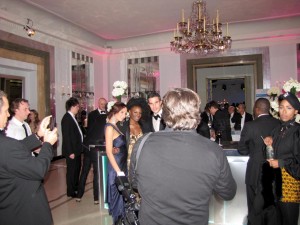 Robin Van Persie & singers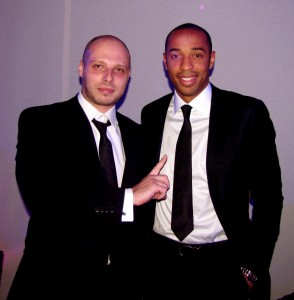 Stan Pol (Goldgenie Russia) & Thierry Henry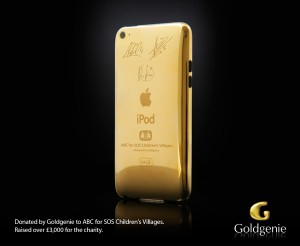 24ct. Signature Gold iPod donated by Goldgenie
The event was organized by the founders of ABC named after their initials (Aimee Vermaelen, Bouchra Van Persie and Carla Fabregas) for SOS Children's Charity.  One of the many items auctioned off was a 24ct. Gold iPod donated by Laban Roomes of Goldgenie which had Robin Van Persie, Seb Fabregas, Thomas Vermaelen, signatures laser engraved onto the back ~ auction prized organized by Ask Godders.
The event was attended by Thierry Henry and members of the Arsenal football team where they bid generously for items such as Rafael Nadal's tennis racket which fetched £6,000 and other items such as diamonds, pearls and luxury holidays also went for vast sums of money providing life changing donations to this organization.
Laban Roomes said during an interview with SKY "Our donation of this 24ct. Gold iPod is in line with our Bling with Benefits program where we look to create limited edition products to raise money for good causes" – Bling with Benefits created by Laban Roomes was founded when he designed 900 limited edition Starburst iPods for superstar Sir Elton John AIDS Foundation – raising much needed cash for people living with and affected by HIV and AIDS.