<p dir="ltr">If your friends have just announced their engagement, you're probably online looking for the perfect gift, right? This can be a really tricky task because lots of other people are likely to do the same thing, so you need to ensure you purchase something totally original, and totally cool to impress the soon-to-be Mr and Mrs. To help you with this, I've decided to write an article this morning highlighting some rather obscure present ideas that might assist by offering some inspiration. Obviously, you should select an item that suits your friends personality and interests, but the products listed below do have universal appeal, so at least one or two of them should do the job.
You might want to make a few phone calls before deciding on some of the more expensive solutions, just to ensure nobody else has been reading this post. However, no matter what you choose to buy, I guarantee the happy couple will be thankful. As the old saying goes "it's the thought that counts".
Gold Flowers
Although you probably won't have seen them before, an amazing website called Goldgenie offers gold plated roses that are certain to impress your friends. They also offer engraving services for other plated items that you may wish to consider. At the end of the day, this is a really quirky item that most people will have overlooked, and as they're far from cheap, you'll be able to relax, safe in the knowledge the newly engaged couple will be astonished by your efforts.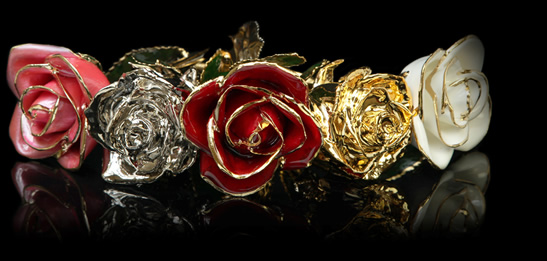 Personalized Champagne
Most people don't really like champagne as a drink, but that doesn't stop them from using it as a status symbol, or to celebrate good news. So, opting to purchase some from a company who provides customized bottles could be the perfect move. You'll be able to have your friend's names printed on the bottle, with a description of the occasion and a person message from yourself. What more could they ask for?
Modern Art Depicting Love
It might seem a little soppy to you, but couples who're enjoying each other's company tend to go weak at the knees for artwork depicting love. There are so many cool websites around these days that specialize in linking new and upcoming artists with buyers, so you shouldn't have any trouble finding something suitable.
Silver Plated Engagement Spoon
Don't ask me why people give spoons for engagement presents, but they do, and you can find some very luxurious models on offer from companies who deal with customization. All you need to do is make your order and tell the company what you'd like written on the utensil. Obviously, this is one item of cutlery never likely to meet with baked beans or gravy, and it usually comes in a smart presentation box.
So, after noting down those suggestions and reading through the information, you should be in the best position possible to buy the most original engagement gift on the market. I hope you've found this article useful, and I look forward to seeing you back here again soon.